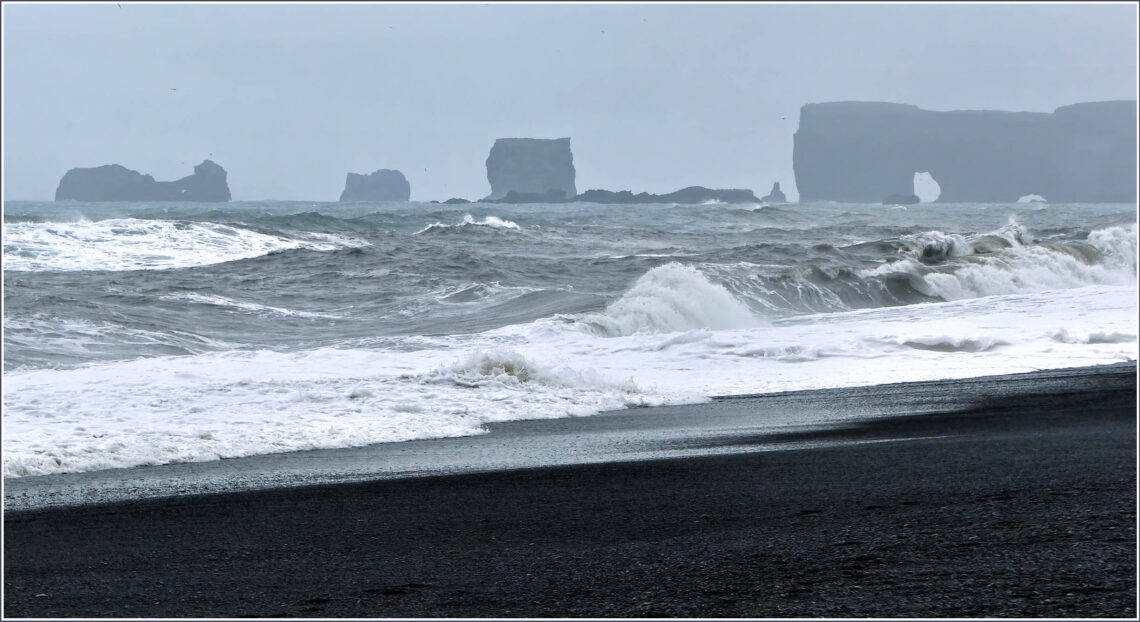 The black lava beach of Reynisfjara
On Iceland's beautiful, but dangerous Reynisfjara black lava beach signs warn of the risks of getting too close to the water's edge where 'sneaker waves' have been known to catch out unwary tourists and drag them out to sea.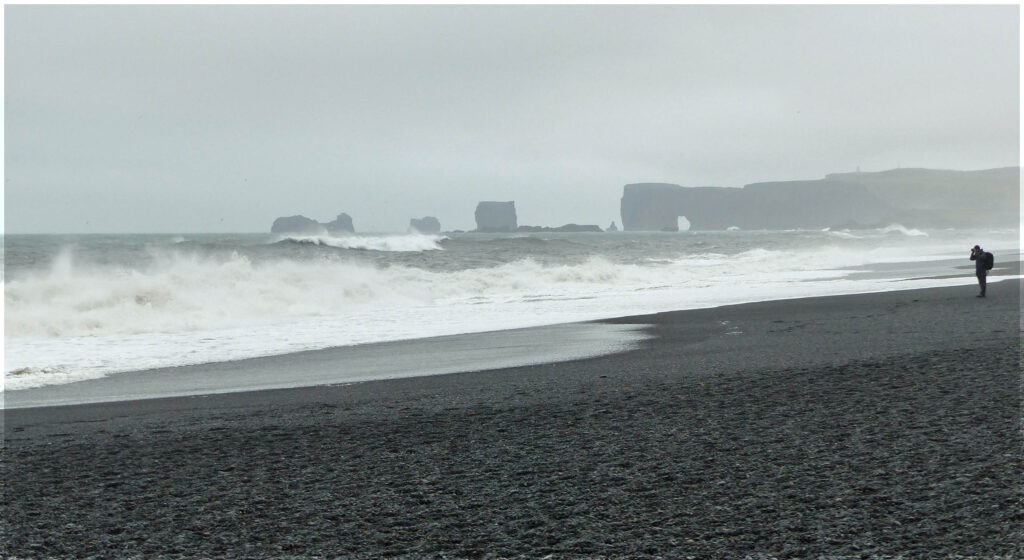 This has to be one of the classic Icelandic landscapes; a sweeping black beach backed by the imposing black basalt cliffs, the latter dotted with patches of green and the white specks that on closer inspection proved to be kittiwakes.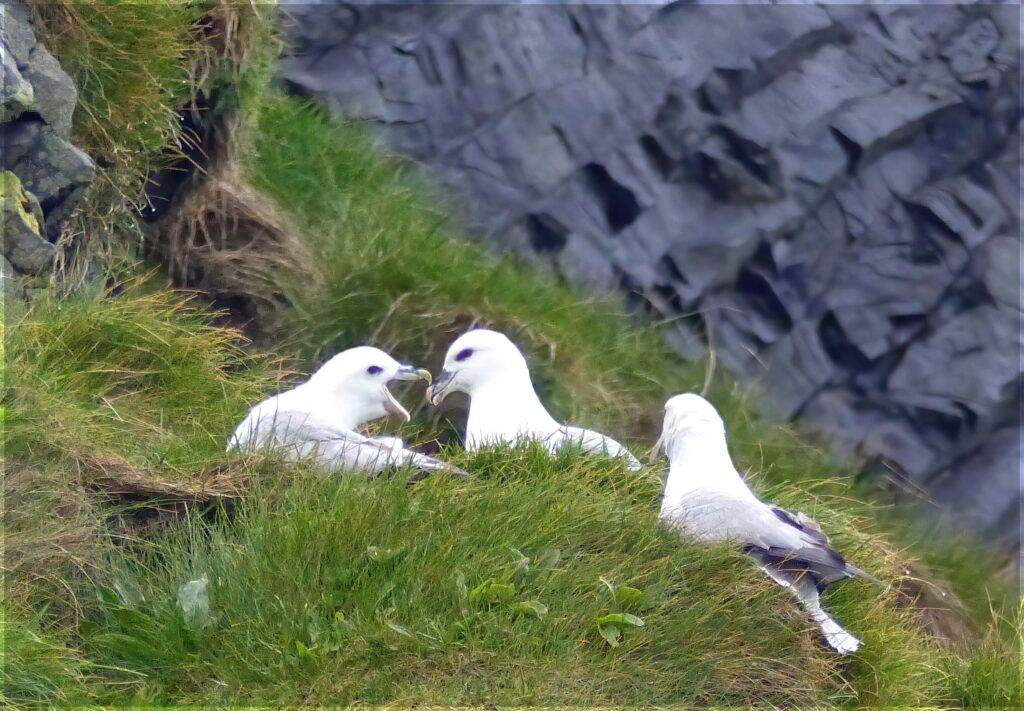 I visited the beach in 2018, with my Virtual Tourist friends. These photos of the beach and striking basalt column cliffs were taken then. They should fit the criteria for Terri's Sunday Stills challenge this week, although the black lava is juxtaposed with green rather than orange!
Beyond the black sands and lava, huge grey/white waves crash against the shore. To the left are the Reynisdrangar, looming through the mist and spray, and on the right the arch of Dyrhólaey, the southernmost part of the Icelandic mainland. This is so large that one intrepid pilot successfully flew through it, in 1993.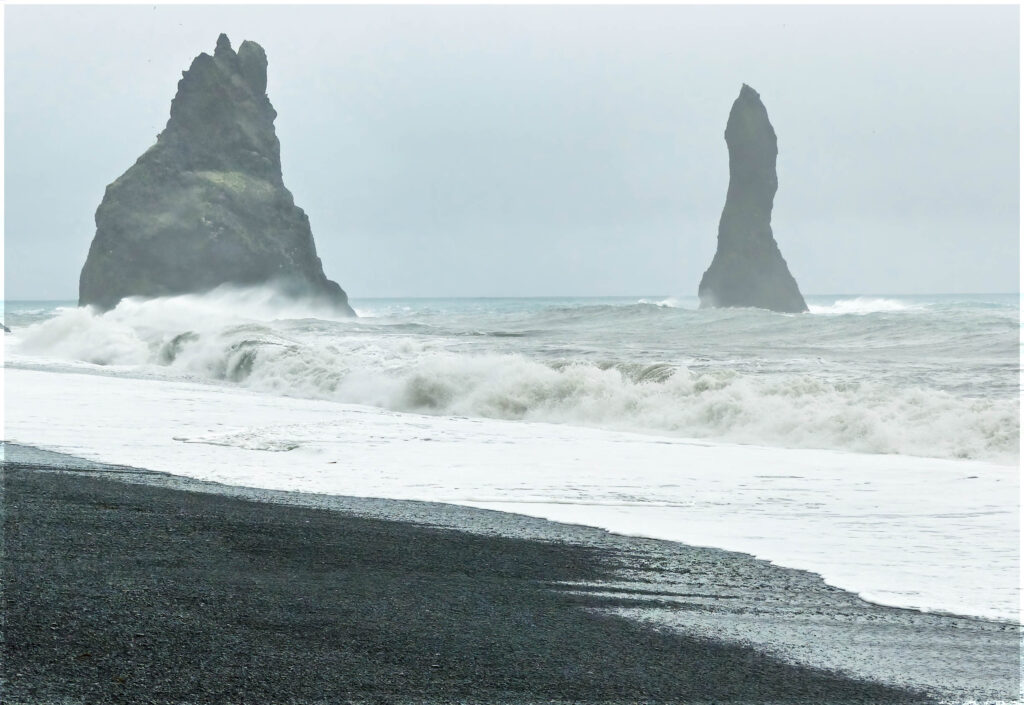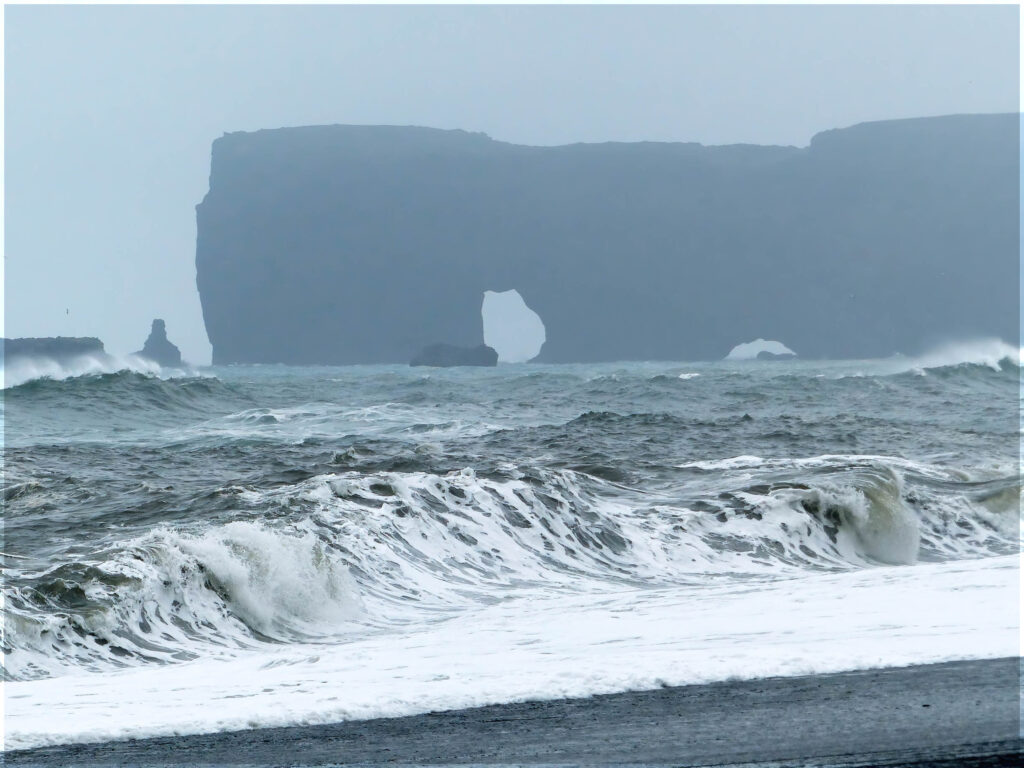 Reynisdrangar
The Reynisdrangar or Troll Rocks are tall stacks of basalt lying just offshore at the foot of the mountain Reynisfjall. The geological explanation is that Reynisfjall was eroded by the forces of nature to form these stacks. But the legends attached to them are much more colourful and more fun.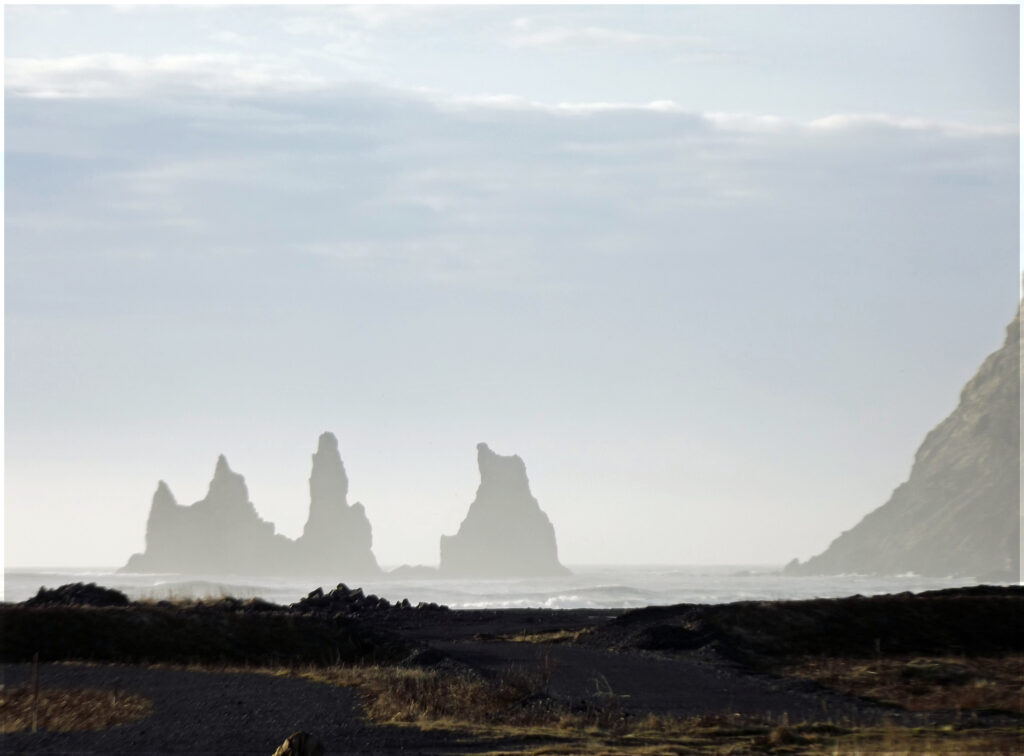 According to one story, two trolls tried to drag a three-masted ship to land here. But trolls cannot go out in daylight, and these two made the mistake of staying out too long. When the first rays of the sun struck them they were turned instantly to stone. Another legend tells of a husband whose wife was kidnapped and killed by two trolls. The man followed the trolls down to Reynisfjara where he froze them, ensuring that they would never kill again.
Whatever their origin, the stacks are certainly very striking. The tallest stands 66 metres above sea level and with the waves crashing against them and throwing up spray they are indeed an impressive sight. Interestingly, although there are four stacks, from land you can never see more than three.
Dyrhólaey
On my previous visit to Iceland in 2012 Chris and I drove out on to the Dyrhólaey promontory via the causeway, and it was here that we found some of the most stunning and beautifully lit scenery of that trip. Still pools of water reflected the icy mountain landscapes all around us, and to our other side rocky outcrops were equally perfectly reflected, creating an effect that reminded me a little of the karst scenery near Guilin in China, or of ink blots.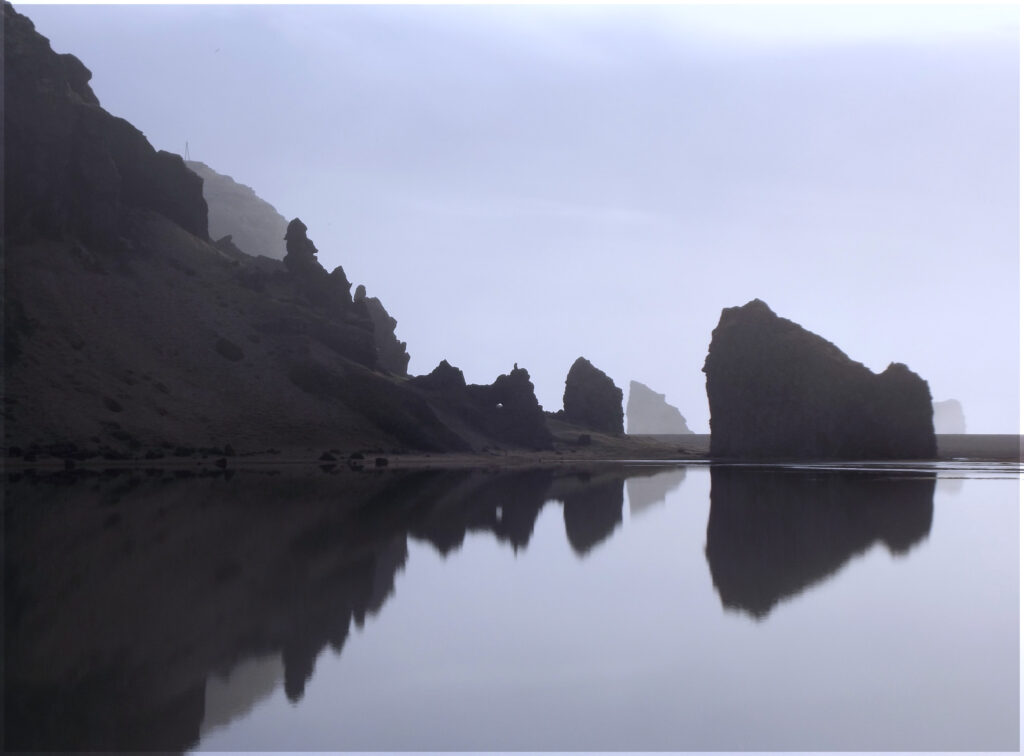 From the end of the promontory we had sweeping views down to the black sands and rock stacks of Reynisfjara. This remains one of my favourite memories in this country of stunning landscapes!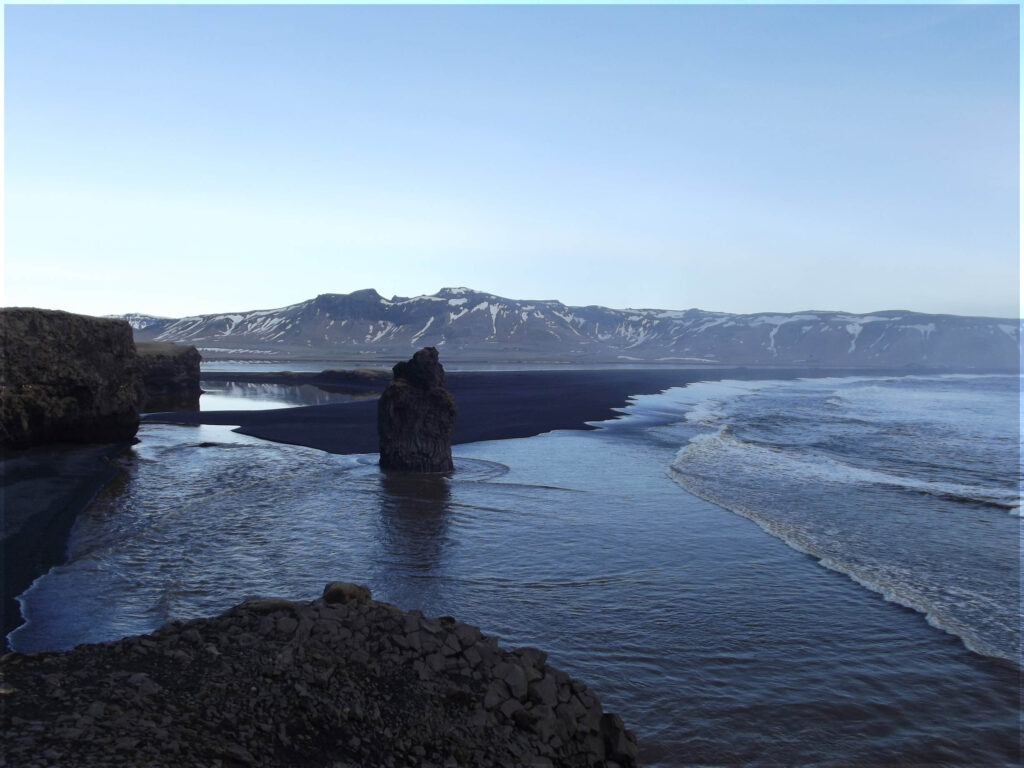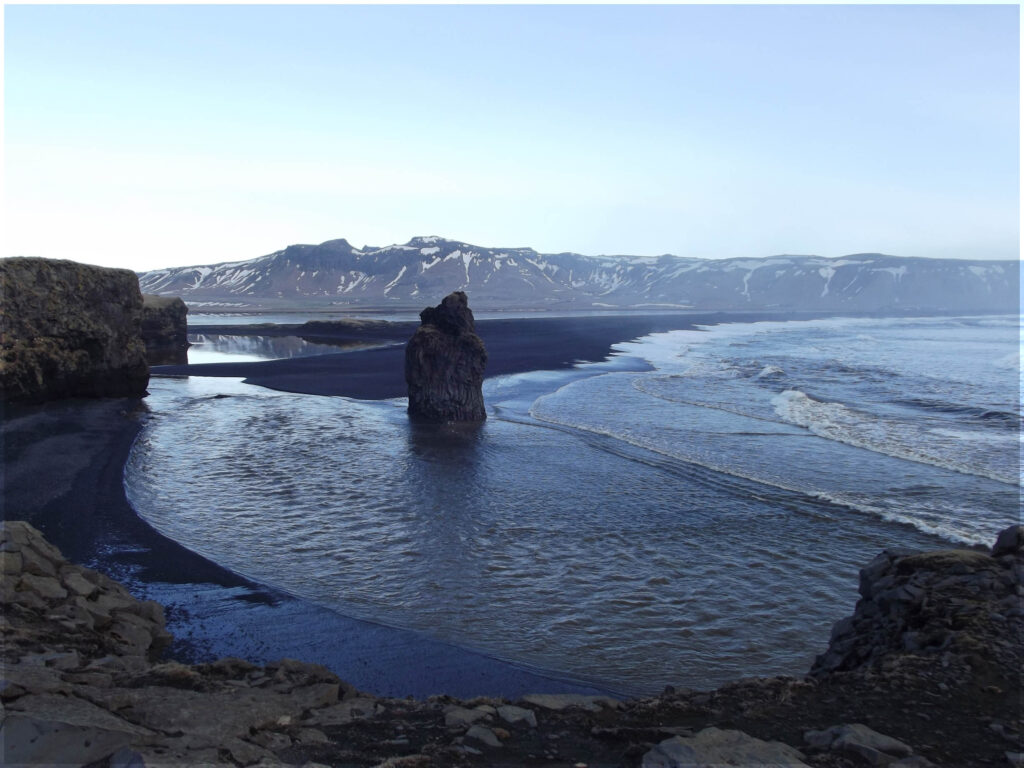 I visited Reynisfjara in 2018 and Dyrhólaey in 2012; the photos here are a mix of those taken on both visits